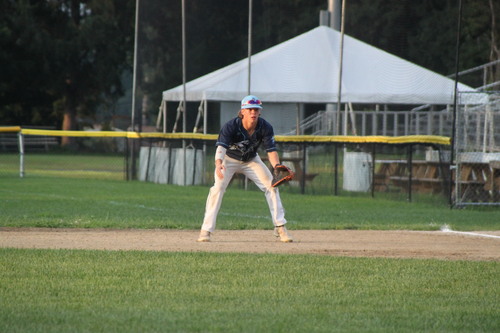 WESTFIELD, Massachusetts (August 5, 2023) – Granby native Jack Kent completed a rare feat in baseball, playing all nine field positions and leading the Westfield Starfires to a 9-3 win over the Brockton Rox on Saturday, August 5.
The Starfires are now 31-30 on the season.
Kent's impact on the game was first felt in the bottom of the opening inning when he was hit by the first Brockton pitch. Nick Serce and Dan Burnett both singled to load the bases, and Kent came home on a Jake Risedorf grounder to short. Luke Stephens then singled to score Serce, giving Westfield a 2-0 lead.
In the third, both teams scored; the Rox picked up a run on two hits and an error, but the Starfires took it back with Serce and Burnett both walking before Jackson Haker hit a flare to left that fell just out of the reach of the shortstop that allowed Serce to touch home again.
The Rox tied the game in the fourth, with a pair of walks, a stolen base, a single, and an RBI groundout to bring in two. Once again, Westfield answered. This time, John LaFleur's leadoff walk was followed by Kent being hit by a pitch again; after Jay Bant walked to load the bases, Dan Burnett doubled, with LaFleur and Kent coming in to make it 5-3 Westfield.
The Starfires then loaded the bases an inning later, and Stephens scored, taking home on a wild pitch while Kent was at the plate after he led off the frame with a single.
The sixth was Kent's time to shine on the mound, and he excelled, needing just eight pitches to put the three batters he faced away.
The Starfires added a pair of runs in the seventh, with Stephens scoring on a balk and Kent driving in Isaiah Pinkney, and pitcher Tim Krol even got in on the offense, hitting a sacrifice fly to left that brough Burnett in in the eighth.
Troy Donahue pitched five solid frames of three-run ball, with only two earned, striking out four for the win. After Kent, Josh Mayo pitched a scoreless seventh, Krol handled the eighth, and Brady DeBarge struck out two in the ninth, including Manny Essley, to close out the game.
The season finale for the Starfires will be a pair of games against the Norwich Sea Unicorns at the Richards Jewelers Diamond at Billy Bullens Field on Sunday, August 6. First pitch is slated for 5:00 p.m.