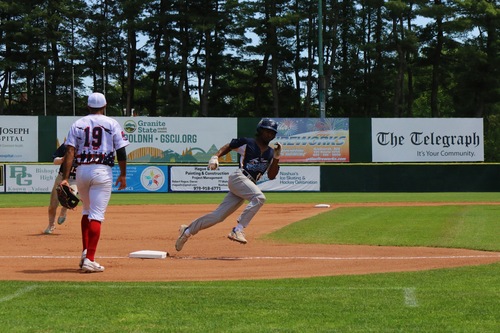 NASHUA, New Hampshire (June 4, 2022) – The Nashua Silver Knights took the first game of a home-and-home set with the Westfield Starfires, winning 8-2 in a Futures Collegiate Baseball League matchup at Holman Stadium on Saturday, June 4.
The Starfires drop to 7-3 on the season.
Offense was at a bare minimum in the game's first half. Nashua had a chance with back-to-back one-out singles in the second, but Will MacLean was thrown out by Cooper Johnson from center field trying to advance from first to third.
MacLean ultimately did start the home side's offense in the fifth with a leadoff single, and Cooper was hit by a pitch to put two men on. After a sacrifice bunt moved them both up, they were driven home by a Matt D'Amato double down the left field line.
The Silver Knights rolled from there, adding two more in the sixth with a hit batter and two doubles and then striking four times in the seventh on five singles and two hit batsmen.
In the eighth, Westfield did snap the shutout. East Longmeadow native Ryan Lavelle led off with a single to center, and Nathan Lincoln followed with a shot that the shortstop mishandled. That set up Johnson to bat, and he drove the ball to left for two bases and two runs, but that was the last of Westfield's offense.
Western New England University's Kevin Hummer absorbed the loss on the mound, going six frames and allowing four runs on six hits with a walk and four strikeouts. Springfield College's John DiGirolamo was sharp in his fourth relief appearance for the team, throwing 1.1 innings with two hits and three strikeouts.
The two teams will face off again as the Starfires return to Bullens Field for a 3:00 p.m. matinee on Sunday, June 5.
For the latest on the team, be sure to follow the Starfires on Twitter and Instagram @starfiresbb, and visit us on the web at westfieldstarfires.com.